If you were hurt in a bicycle accident in Largo, don't hesitate to contact Roman Austin Personal Injury Lawyers for a free consultation.
An experienced Largo bicycle accident lawyer can fight to recover fair compensation for your medical bills, lost wages, pain, suffering, and more.
Don't hesitate to contact us, we'll put over 75 years of experience to work to maximize your compensation award.
You must call our law offices at (727) 787-2500 to schedule your free case review today.
Why Should I Hire a Largo Personal Injury Lawyer to Help With My Bicycle Accident Claim?
Cycling can be a great way to get around Largo. Unfortunately, it can also be incredibly dangerous for cyclists. Cars aren't always on the lookout for bicyclists. And, unlike in a typical car accident, you have very little to protect you from the impact.
Like motorcycle accidents, many bike accidents are dual-impact events.
First, you're stuck by a motor vehicle. As if that weren't serious enough, you're then thrown to the ground to collide with the pavement.
If you sustained bicycle injuries, we know that you're likely in pain and feeling overwhelmed.
Don't expect the insurance companies to be sympathetic. In fact, even if the adjuster seems friendly, it's important to avoid making any concrete statements without first speaking with an attorney. You can bet that the insurance company will do everything possible to convince you to accept a lowball settlement–especially when you're feeling vulnerable.
Establishing an attorney-client relationship with an experienced Largo personal injury lawyer can even the score.
When you hire Roman Austin Personal Injury Lawyers to help, you can rest assured that we will:
Insurance companies are notorious for giving accident victims the run-around. They know the fair value of your injury claim–because they have teams of experts working on their side. You deserve the same.
Fighting for fair compensation can be one of the most important things you do. Don't go into your battle unarmed. Call an experienced personal injury attorney at Roman Austin Personal Injury Lawyers for a 100% free consultation today.
Understanding the Dangers of Bicycle Accidents in the Sunshine State
In 2019, the Florida Department of Highway Safety and Motor Vehicles (FLHSMV) reported 6,664 bicycle accidents statewide. 156 of those accidents were fatal.
It's no surprise that bicyclists flock to the streets of the sunshine state.
The positive economic and environmental aspects of biking are clear–and here in Florida, the weather permits bicycling year-round.
On the flip side, surveys show that Florida leads the nation in the number of bicycle accident deaths. Out of around 857 bicycle accident fatalities nationwide in a single year, 160 were in Florida. That means that nearly 20% of all bicycle fatalities occur in our state.
Common Causes of Bicycle Accidents in Largo, FL
The National Highway Traffic Safety Administration recently reported that bicycle fatalities in Florida have tripled since 1975.
Accidents remain unfortunately common despite statewide efforts to increase the availability of bike lanes and cycling awareness.
Knowing what's causing so many bicycle crashes is key to preventing future injuries.
Some of the most common causes of bicycle accidents in Florida include:
The vehicle that hit you might have come out of nowhere. It can be hard to know what caused an accident–after all, accidents actually can happen in the blink of an eye. Our lawyers at Roman Austin Personal Injury Lawyers would be happy to schedule a time to talk about how we can help you find out what caused your accident.
If you're ready to take the next step, call our offices or connect with us online today.
Bicycle Accident Victims Often Sustain Catastrophic Injuries
Our attorneys at Roman Austin Personal Injury Lawyers know that any injury can change your life forever. Even injuries that aren't categorized as "catastrophic injuries" can keep you off the job while you're in pain.
Bicyclists are at a high risk of sustaining severe injuries in an accident. Even with a helmet, the odds of walking away unscathed are slim.
Our lawyers will fight to recover full compensation for all of your bicycle accident injuries, including:
Having enough money to pay for quality treatment can make all the difference in your recovery. At Roman Austin Personal Injury Lawyers, we know the stakes are high. We'll do everything we can to get the most compensation possible for your injuries.
Who Can Be Held Responsible For Paying My Damages Award?
Under Florida state law, anyone whose actions contributed to the accident can be held financially responsible.
Depending upon the circumstances, responsible parties might include:
Knowing who is responsible for your injuries is critical to getting fair compensation. We'll demand full compensation from every party who shared in the blame. Demanding payment from all responsible parties makes it much more likely that you'll recover maximum compensation.
Deadline to File a Bicycle Accident Lawsuit in Florida
The Florida statute of limitations gives accident victims two years to file a personal injury lawsuit.
The state's statute of limitations used to give accident victims four years, but the law was revised on March 24, 2023. Therefore, if your Largo bicycle crash happened after that date, you must adhere to the two-year deadline.
Of course, there are exceptions to every rule. If you were a minor at the time of the accident, you could have additional time to sue.
However, it's important not to take chances. The statute of limitations is a hard and fast rule. If you wait too long, you'll lose your right to compensation–even if your injuries were severe.
Do you have questions about whether the deadline for filing a lawsuit has passed? Don't hesitate to give us a call. Our personal injury attorneys can take action to safeguard your right to recover damages.
Can I Recover Compensation if the Insurance Company Blames Me For the Crash?
Insurance companies blame accident victims all the time. They use this tactic to scare you into backing off or accepting a lowball settlement.
Our bicycle accident attorneys can help you understand how the modified comparative fault rules work in the state of Florida. Even if you do share in the blame, you don't lose your right to hold other responsible parties accountable as long as your share of fault is 50% or less.
Your damages award might be reduced to account for your own fault, but you can still walk away with significant compensation. However, if you're allocated at least 51% fault, you will receive nothing.
Don't let the insurance company's games work. Our experienced lawyers are ready to start fighting back. We're here to protect what's rightfully yours, so give us a call today.
What Types of Compensation Are Available to Bicycle Accident Victims in Largo, FL?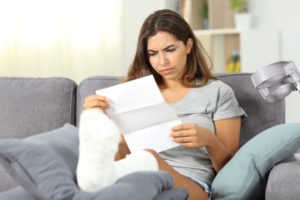 You deserve to be made "whole" again after an accident.
While that's not always entirely possible, you deserve to get every available dollar. After all, the costs of a serious injury can quickly become overwhelming.
At Roman Austin Personal Injury Lawyers, our legal team can help you get money for:
We know it can be tempting to take any insurance offer on the table. That can have serious negative consequences. You might not know what your case is worth–and if you take less than you deserve, you could run out of money down the line.
Our lawyers have been handling injury cases like yours for over six decades. We have contacts with experts who can help put a fair dollar value on your losses. To learn more about how we'll use our resources to your advantage, call our law firm today.
Call to Schedule a Free Consultation With a Largo Bicycle Accident Lawyer at Roman Austin Personal Injury Lawyers Today
You only have one chance to get the maximum available compensation after a bike accident. An experienced Largo bicycle accident lawyer at Roman Austin Personal Injury Lawyers can fight to get the full amount you deserve.
Our personal injury law firm offers free case evaluations to all clients. Don't hesitate to call and arrange a time to speak today. We represent clients in Largo, Palm Beach, across Central Florida as well as those involved in a bicycle accident in Clearwater.